El Paso "Hold The Line" a success
"It is a big deterrent, it is effective in that sense," he said. "It gives us that deterrence and gives us time, and with the proper resources then we can be more effective."
Before the "Hold The Line" Border wall
A dried up Rio Grande River separates El Paso and Cd. Juarez, Mexico. In the early 1990's, an eight-foot-high chain link fence existed on the side of El Paso to further add prevention of illegal aliens border crossing. Parts of the chain link fence along the border was torn down and went unrepaired for long periods of time allowing illegal aliens easy access into El Paso at different times of the day or night and often melted into the local neighborhoods.
El Paso had been the nation's second-busiest border crossing for illegal aliens. Mr. Silvestre Reyes, chief of the Border Patrol, devised a new border-control tactic referred as operation "Hold the Line." He positioned 400 of his officers right on the border, forming a blockade of sorts. It brought illegal immigration to a virtual halt. The operation, due to its high cost had to be cut after several weeks.
In 1993, "Operation Blockade," (later changed back to 'Hold the Line') was initiated when federal funding became available. But within a few days, the residents of El Paso began to see other effects. The police reported that the number of auto thefts and petty crimes had fallen. Merchants reported that shoplifting had dropped off and everyone noted that city streets were largely free of beggars and windshield washers.
El Paso Border Patrol
Former Border Patrol Agent Martin Wilson who began his career in 1985, when just about the only thing stopping illegal immigration was the Rio Grande River and his fellow agents, agrees that the fencing is helpful. He remembers being part of Operation Hold the Line and how effective it was for the safety of the city.
"It is a big deterrent; it is effective in that sense," he said. "It gives us that deterrence and gives us time, and with the proper resources then we can be more effective."
Manny Silva Rodriguez, 58, grew up in Chihuahuita, an old neighborhood dating back to Spanish land grants nestled next to the Rio Grande River and the Paso Del Norte international bridge in Downtown El Paso.
He commented about the 15-to-18 foot tall metal border fence, "We already have a wall – to us, it's been in place for like six years," and Rodriguez added, "To us, at first we didn't approve of it. We got used to it. We saw the decrease in people crossing over."
"We don't see the Border Patrol going fast through the neighborhood how they used to," Rodriguez said. "They used to be running around in our neighborhood because they were trying to catch the people who crossed."
Not everyone was happy with operation "Hold the Line." Inner-city merchants reported low sales, businesses were unhappy because employees were being detained, and citizens felt Mexican family members border crossing was being hurt by the operation. Apprehensions were down by 70 percent and illegal crossings decreased, deterring future crossers, as well.
Opposition of a border wall
The reasons for the opposition of a border wall are multiple. Some are principled—those of environmentalists and border and migrant rights activists, for example—while others are merely pragmatic. Nonetheless, due to the federal initiative, "Hold the Line," illegal border crossing dropped significantly, border crime dropped in the downtown area, and El Paso downtown business sales increased.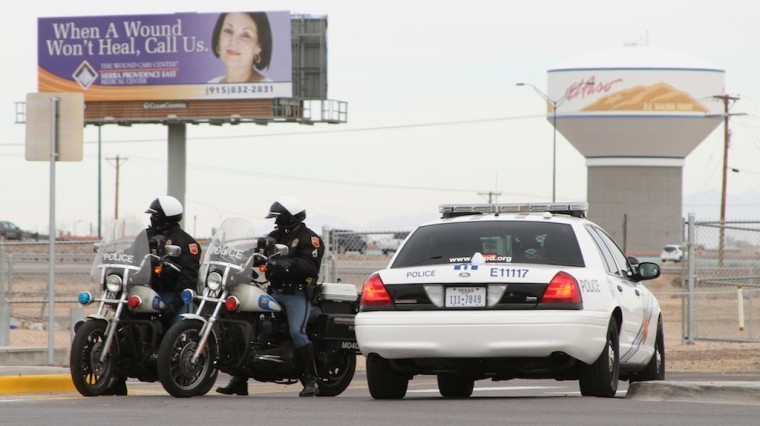 To deal with out-of-control gangs in El Paso, the El Paso Police department implemented a gang task force in the late-80's, and the Youth Initiative Program in the mid-90's, along with an Auto Theft unit. With their combined efforts, citywide crime reduction succeeded, achieving a safe city status that continues to this day.